The crest of nWave: Ben Stassen interview
---
June 15th, 2016 / Category : News
---
Ben Stassen, the founder of Brussels-based nWave, has established his company as a European animation powerhouse backed by Studiocanal. It is now looking to conquer the US with The Wild Life.
Within the European film industry, it is grudgingly accepted that locally produced animation has little chance of competing against the juggernauts from Pixar and DreamWorks. That is what makes the achievements of Brussels-based Ben Stassen, founder of nWave Pictures, so notable.
In 2008, Summit released Stassen's first animated 3D feature Fly Me To The Moon in the US. At the time, there were only a few hundred 3D cinemas in the US but the film, which went out on 400 screens, still managed to reach 2 million admissions and went on to gross $42m at the global box office.
Thanks to his partnership with Studiocanal, Stassen's productions are now shown around the world — and sometimes outperform films from the US majors. A Turtle's Tale: Sammy's Adventures, for example, made close to $10m at the South Korean box office. Later this year, Lionsgate will release nWave's latest film, The Wild Life (aka Robinson Crusoe), in the US on 2,000 screens.
"The ability is there, the talent is there," says Stassen, reflecting on the struggles faced by his fellow European animators to find global audiences. "But it is extremely difficult to have the continuity. Without Studiocanal, we would no longer be there. It's as simple as that."
The Wild Life
Sammy's journey
It was at the 2009 Berlin International Film Festival that Studiocanal's then head of sales Harold van Lier (tipped off by fellow executive Anna Marsh) first saw the teaser for Sammy's Adventures. He in turn alerted Rodolphe Buet, president of international distribution and marketing at the company. A week after the festival, a high-level Studiocanal delegation visited Stassen in Brussels, snapping up worldwide rights to Sammy's Adventures and seeking to invest further in the company. "They wanted to make a long-term distribution deal with us," Stassen recalls. "We said, 'Great but we'll do that only if you take an equity position in our company.'"
A deal was struck in 2010: Stassen and his partner Eric Dillens remain majority shareholders while Studiocanal took a stake of just below 50%. For nWave to remain eligible for local tax shelter support, it needed to retain Belgian nationality.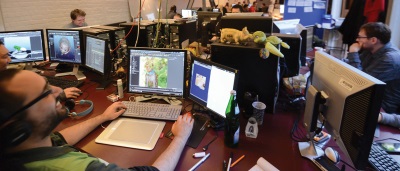 nWave's Brussels studio
"With nWave, we are in the right spot to bring very high quality to third-party partners in the world who are looking for family entertainment," Buet reflects on the alliance. nWave's films, he notes, do not just work in cinemas; there is obvious appeal for TV and SVoD platforms as well. Of the territories in which Studiocanal distributes, the films have performed especially well in France and Germany. "The UK market is much more complex," admits Buet. "The family market is very crowded. It's difficult to find a slot without competition that will give us a chance on a relatively modest P&A investment to reach the appropriate audience."
Studiocanal always retains the final decision on which films go ahead. "We need to agree on the project but once we get the greenlight, they have been the best possible partners," Stassen says of the French major. "They've left us completely on our own to do our stuff. They've been very supportive."
Along with Studiocanal, nWave partnered with Belgian producer and tax shelter specialist uMedia on some of its earlier projects and is now working with distributor/financier Belga on its latest feature, Son Of Bigfoot, for which Belga raised $5m through the tax shelter. "The fact we're masters of our destiny, that we don't have to convince 20 layers of hierarchy or partners about what we do, makes it much, much easier," Stassen notes of the nWave model. He co-directs and produces the films as well as managing the company, which employs 120 staff.
Stassen came into animation in a roundabout way. In the late 1980s, he had just completed a post-graduate degree at the University of Southern California, where his fellow students included Jay Roach and Phil Joanou. He produced a Golden Globe-nominated Yugoslavian live-action film called My Uncle's Legacy (1988), directed by Krsto Papic. Stassen and Papic had planned to work together again, but the Balkan wars intervened and the new project was scrapped.
Read the article: http://www.screendaily.com/features/the-crest-of-nwave-ben-stassen-interview/5104863.article